Be Seen With Us! Websites and Graphic Design that Get Results
Putting together an effective website takes time and energy – both of which are often in short supply for a small business owner.
Let us help you organize the structure and content for your site so you don't waste time and you get great results.
Take advantage of our professional photography, video and copywriting experience to make your site stand out from your competition.
Make updates to text and add images quickly with our easy-to-use content management system. We'll train you and make sure you're comfortable using it.
Utilize our expertise in search marketing and social networking to make sure your site gets found by your customers.
Are you near Corvallis, Albany, Salem, Eugene or Newport and need a helping hand with your online and off-line marketing? With Visual People, you have a partner with more than 15 years of experience in design, writing and search for the web. We can also help with your printed marketing materials – logos, brochures, business cards and more.
Call us today for a free evaluation of your existing website or to discuss your project!
Just Seen:
Recent projects we've finished
Chalet RV Company in Albany, Oregon: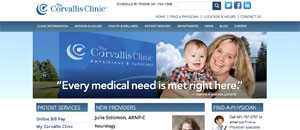 From our blog:
Quality content on your website is important, both to rank in search engines and to appeal to potential customers. So why are so many small business owners creating the wrong stuff?
If you write one new piece of content for your website this year, or revise something that's currently on your site, it should be your FAQs.