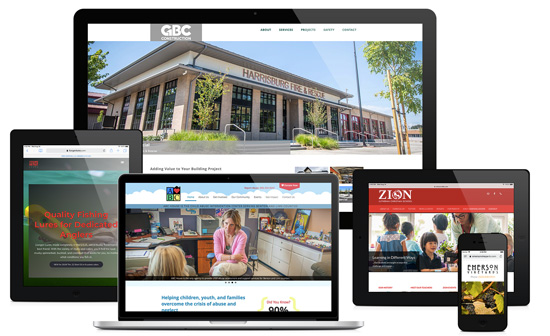 From WordPress to Squarespace practically anyone can have a website. But what makes that website effective? Why might a template be a decision you'll regret? We've created hundreds of sites and we know what works and can help you, too.
Our goal in working with you is to partner with you to solve your problems and gain customers for your business. Everything we do is aimed at increasing your return on investment for your marketing materials. Sometimes that requires an approach tailored specifically to you! So our process is flexible. Here's a very basic eight-step outline of how we take a web design project from start to finish.
You tell us what you need. Sometimes this is over the phone when you call us; sometimes it takes the form of a meeting at your office so we have a better understanding of what you do and can easily talk to members of your staff or team.
We suggest some different project options that will work for you, based on what we've discussed. Because project budgets are tight for most of our small business clients, we offer at least two and usually three different packages in a written proposal.
Once you've decided on the right package and make an initial payment, we start the design process. Perhaps you've already talked to us about what you're seeking in a design; if not, we'll discuss during the planning process. It will help us if you can provide the addresses of some websites you like and websites of your competitors.
Because the structure is the most important piece of the website, we have a content planning meeting. Our goals: Decide the main sections and pages for each section; plan what words and images go on each page; and come up with a schedule for getting that content ready for the site.
We provide design options. You can select pieces of the different options to make a final template, or you can choose one complete option to proceed with.
Using the design you like, we build the website and integrate the content. During this part of the project, we test the site in different browsers and make sure it looks good for all your web visitors.
Launch! After you've reviewed the final site, we make it live.
What good is a website if no one can find you? We finish up remaining search engine optimization work to make your site more appealing to Google and Bing, the two most popular search engines. We'll also schedule training for you to learn how to use our easy Content Management System to make your own website updates.
Don't worry. It doesn't end there. We'll continue to be available as you have questions and will follow up to make sure you're happy with our work.
Would you like to find out more about how to make your small business website work for you? Don't hesitate – contact Visual People and ask us for a free website evaluation of your existing site! We don't bite, and there's never any obligation.