Visual People Blog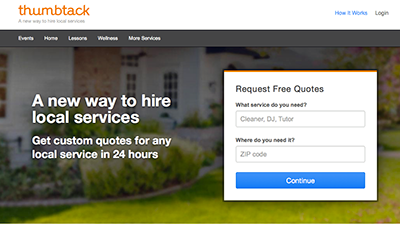 Thumbtack is a website that matches service providers with potential customers seeking that service. The customer tells Thumbtack what kind of service they need and how far away from their home companies can be located.
Then, Thumbtack emails some details about the lead to a list of providers who have said they offer that service and are in the right area. Providers pay an amount depending on industry (up to $15) to respond to the lead with their information. This Businessweek article from June explains more about the company and its history.
Sounds neat, doesn't it?
The problem is that service providers are paying to submit their quotes or bids, and then they are at the mercy of the customer to decide whether or not to reply. Unlike with a traditional lead, where you've spoken with the customer by phone or interacted by email, you may not be entirely sure exactly what their needs are. And you can't follow up easily with Thumbtack.
With Visual People, for example, we can speak to a potential client and get an idea of what they're looking for. Then we can either suggest they find a better fit for their needs and budget, or we can set up an in-person meeting, or we can decide we have enough information to send them a proposal.
Over Thumbtack, though, we can't ask those kinds of questions. While there is an option to send questions, you just can't go back and forth easily to discern what the client needs. A lot of the time, the best we can do is submit a generic proposal. And that's all our competitors can do, too.
So, Thumbtack sort of forces customers to operate in a vacuum with no ability to gauge the authenticity of the provider. That means the decision often comes down to price, because customers don't have a better way of differentiating. And that's bad for local, quality-driven businesses who offer a lot in the way of service but aren't the cheapest alternative out there. And it's bad for consumers, who may not get the best company for their needs.
Kurt Rasche, a web designer in Las Vegas, wrote a blog post detailing his experience with the service over a year and a half. Result: Lots of leads, no real clients.
"I get about 2-4 emails a day with people searching for web design or graphic design, but I have yet to hear a peep from any of them," he said in an update from this past August.
More than 100 other professionals have commented on Rasche's post with similar thoughts.
"My dad is a professional painter and I help him with his online presence and generate leads for him. I've been using Thumbtack for two years, and although we get many leads from Thumbtack, we've yet to be hired by anyone," said a commenter named "SL."
"The funny part is our bid doesn't include pricing because we have to see the jobsite in person to provide an accurate quote, yet they never reply back," SL continued. "For the painting industry (and possibly any home/construction service business), bidding online is not really possible. Providing site-unseen estimates would rely on what the consumer tells us…. The consumer is obviously not a professional, and would not know what to look for even if provided detailed questions."
As SL pointed out, it's almost impossible to bid online without seeing the job site or speaking with the customer, seeing photos and asking professional questions.
Other commenters, though, pointed out some best practices for using Thumbtack.
"I'm being very picky with which leads I submit quotes for," commented Umair, a mobile DJ. "I make sure they have as much info filled out as possible and I'll ask questions before submitting the quote to see if they answer me back. If they answer, then I submit a quote."
Timing is important when responding. Successful Thumbtack users often have responded almost immediately upon receiving a lead.
It's also likely that Thumbtack users are just more likely to be shopping around or gathering preliminary info. ("I think I'll need a new furnace soon; how much should I budget?" or "I'm interested in having a deck built in my back yard – what should it be made out of and what'll it cost when I do get around to it?") In this case, submitting a quote works more like advertising. You want to be top of mind when the person DOES get around to having that service done.
During our experiment here at Visual People, we took the time to track down one potential customer by the information she gave, and then initiated a phone call. After discussing what she needed for her website redesign, the potential customer determined that we were out of her budget, so we didn't submit a quote. A follow up a month later revealed that she'd decided to put the project on hold.
In short, Thumbtack is an attempt to give consumers options, just like when they go to Amazon and can search by brand and size through 500 different kinds of running shoes. Where this breaks down is that services are not products. Good service providers need to interact with potential clients to get a solid idea of their needs and how to meet them. When that doesn't happen, customers are forced to choose between company A and company B with little to go on besides price.
Should your small business use Thumbtack? It's not very expensive, and certainly worth experimenting with. Vendors who provide services for events, like weddings, seem to have more luck with the service than, say, a contractor or website designer. Our advice: Set up a profile, give it a try, but cut your losses if you find you're not getting any valid responses.
What can you say in 6 or 15 seconds to communicate to potential customers? You'd be surprised! Here are tips for creating short videos with Vine or Instagram and embedding them in your site, as well as some good ideas for topics that can work for your small business.
How often do you need to update your website, and how can you get it done when you have so many other priorities? Visual People's Golden Rules for Website Updates may help you plan and schedule what you need to do to make your website most effective for customers and for search engines.
Quality content on your website is important, both to rank in search engines and to appeal to potential customers. So why are so many small business owners creating the wrong stuff?
If you write one new piece of content for your website this year, or revise something that's currently on your site, it should be your FAQs.
The ways customers find you can vary depending on your business and industry, but it's clear that people use mobile devices to look up companies and make purchases. A Google study from earlier this year found that 1 in 5 people who search for local businesses on their phones made an online purchase; over half called the business; and 49 percent looked up the business on a map.
Don't use stolen, common-use or stock photos for your important marketing materials, especially online. Here's why original images can help you sell more and boost your search engine rankings.
What are you doing to welcome people looking for your business through their mobile phones? Here are five things to make sure you do:
Small business blogging is hard work and there are no easy shortcuts to creating good content. But the rewards are worth the work. Here are eight tips for writing a good blog and getting posts up regularly.
Pinterest is the latest social media networking tool to gain attention, but should your small business jump onboard? Here are five considerations for whether you should be "pinning."
If you're just getting started on Facebook, or if you've had a page set up forever but never know what to post, this information is for you. How often, when and what to post on Facebook are concerns for many small business owners – start here and make modifications based on what works best for you.