Twitter is a social media tool that allows the user to send 140-character messages to a list of people who choose to hear what that user has to say. (Google basics of Twitter to learn how it works, especially for terminology like follower, tweet, retweet, direct message or DM and more.) There are hundreds, if not thousands, of resources online that aim to answer the question, "Should my business use Twitter?"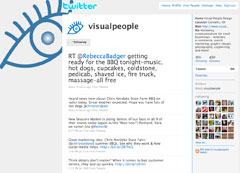 For the average Visual People client, the answer is, "It depends on your business." Think of Twitter as a way to reach out to people who already are interested in your business. You are most likely to get people following you who are local to your area (great) and have already heard of you or have done business with you before.
Let's look at an example. You love coffee and you generally make a purchase from a local coffee shop two or three times a week. You are probably going to follow your favorite coffee place on Twitter, because you have a relationship with them. You're especially pleased if they tweet about a new drink or a special discount. On the days when they have a special, you almost always stop in for a treat.
Now, let's say a new coffee shop opens in town. You learn that they are on Twitter and decide, out of curiosity, to follow them. You find that they regularly tweet about discounted drinks and specials just for their followers. You try the new shop because you learned about a discount they were offering on your favorite drink. It's good, and you begin to go to the new shop from time to time.
Twitter has helped the regular coffee shop attract its customers more often. You see the special advertised to anyone who drops by that afternoon and you go more than you used to. It's also helped the new coffee shop, by making you aware of it and giving you an incentive to try it. You like it and you're buying some coffee there.
The only loser? Your wallet, which is now lighter because you're buying coffee once or twice a week more than you used to!
Now let's say you are running a heating and cooling business. Are you likely to benefit from Twitter like the coffee shops did? Not really. Sure, there are benefits to having a Twitter account and working to gain local followers. You may occasionally tweet to remind people that you're there, such as on a particularly cool fall day or to advertise a special deal. But people make heating and cooling purchases rarely, and when they do, they carefully consider their options. Seeing on Twitter that you do free estimates is not going to get them to drop everything and run in.
The heating/cooling company can create a strategy for using Twitter and treat it like any other advertising, noting how much time is invested and determining whether that pays off. But the expectations for the tool should not be to immediately increase sales. It needs to be used wisely for what it is, and quite frankly, with low expectations for converting sales.
So, for some businesses, Twitter serves to increase business in an obvious way. For many businesses, though, Twitter is another way to brand yourself. And for many small business owners, a lot of other business and marketing priorities come first.
We're happy to talk about Twitter with our clients. Will it work for you? Call or email or DM us on Twitter (@visualpeople) and we'll chat!