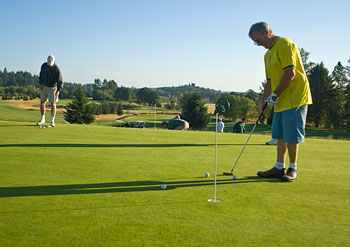 It's Masters week, and it struck us while watching the tournament how many things golf has in common with using social media. You need to practice, have patience and enjoy the ride – not just the outcome – to be successful. So while we've had one eye on the beautiful grounds of Augusta National via the Masters.com online video feed, we've had a chance to compare some things about the game of golf with social media. Here are nine lessons to take away:
There's a specific etiquette, which is hard to understand without actually doing it. Yes, you can read books that explain it, but you won't really "get" how to tend the flagstick and how to keep from standing in the wrong place on the green when your playing partner is putting out until you've done it and practiced it. Then it becomes second nature.
When you're getting started in social media, it's hard to know exactly how often to tweet and how to walk the fine line between being engaging and being obnoxious. The best place to start is to watch others do it, then practice with a few real-life friends before you hit the big time. Apologize if you get it wrong, and keep on going. Understand that your mistakes are going to rub some people the wrong way, while others will better tolerate your learning curve.
It takes focus and concentration. In golf, the stronger your mental game is, the better player you are. As a small business owner using social media, you need to have a game plan to get the most out of what you do. That includes both planning how you will proceed and how you will cope with problems. Be disciplined and don't react emotionally if things don't go your way. Instead, weigh your options and come up with the most logical and professional approach.
Talent and hard work matter more than fancy equipment. There are all kinds of flashy, expensive new clubs out there, and it's tempting to feel that if only you had that new adjustable TaylorMade driver, you'd be able to out-drive your friends.
Likewise, social media tools exist to make your life easier, but don't get hung up on needing to have all kinds of fancy tech gadgets and software in order to use social media. Don't have the newest smart phone? That's OK, you can still access Facebook from your four-year-old desktop computer. Don't have the latest version of HootSuite? You can post Tweets just fine from Twitter.com. Don't let a lack of an iPad or netbook computer keep you from using social media.
Just because you get it right once, doesn't mean you'll always get it right. For many amateur golfers, the joy of a birdie or a perfect drive is overshadowed by the double bogey or shank into the trees that follows. In social media, you might have a popular blog post or a video that goes viral and you'll feel on top of the world. It's hard when your next offering isn't nearly as strong. You have to realize that you're not going to hit it perfect every time. It's the long-term strategy and the joy of an occasional awesome result that you should focus on.
Establish a rhythm that works for you. Some people like to walk the golf course, and hate riding in a cart. You'll find some good players who love to play fast, while others like to take their time and enjoy the process. In social media, some people like to communicate frequently and share links often, while others heavily research what they'll say and maybe post once or twice a week. There is no one formula that works for every person and every business. Find the rhythm that works best for you and plan accordingly.
It's easy to spend too much time doing it. If you're a golf aficionado, you may find that hours have passed while you're on the driving range or the practice green. It's easy to keep working on a new putting grip or see how many balls in a row you can chip to within three feet of the pin. But there is a law of diminishing returns – you will get better the more you practice, but you may be sacrificing time that should be spent on other endeavors.
Social media can be a time sucker, too. You can learn a lot from watching, practicing and getting involved, but too much time spent will take you away from the other work you need to be doing for your business.
Sometimes you have to take a couple lessons. When your tee shots cross the line from a nice fade to an outright slice, it's helpful to have a teaching professional take a look at your swing and help you straighten it out. If social media isn't working right for you, a professional can give you the help you need to straighten out your plan and get you on the right path again.
Don't expect to be as good as the pros. You can't shoot par right away on the golf course, and you can't get thousands of followers and lots of attention overnight, either. People like Chris Brogan make impressive salaries as social media experts, but Chris has been studying social interaction for more than a decade and working hard, full-time, as an author and online marketing professional. In golf, an occasional player often has goals that involve making some improvements, having fun and enjoying friends and the weather. In social media, your goals should be to make some sales, have fun and build relationships.
While the game itself is nice, the real value comes from relationships. It's great playing golf, but some of our best memories of golf involve time spent on the course with family and friends. Social media is great to use, but you're going to have the most impact when you think of it of as a way to make and strengthen business relationships and even friendships. At its heart, social media, like golf, is about conversation, give-and-take, and fun.