"In order to be remarked about, you have to do something remarkable."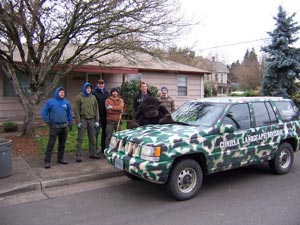 That's a quote that Chris Shonnard, owner of Shonnard's Nursery, Florist & Landscape in Corvallis, heard at a seminar he attended for nursery owners last summer. And it sparked the idea for Gorilla Landscape – a monthly yard makeover and cleanup for a local family in need. Customers apply for themselves or for a family that they know could use the help.
"We review the applications, pick three, then call all three finalists," Andrea Shonnard, Chris' daughter and the merchandiser/buyer for the nursery, said in an email interview. "Most receive the project well, some don't want any help. Out of the three choices one always ends up sticking out more then others."
Shonnard's began doing the projects in December, and its first Gorilla Landscape was featured in the Gazette-Times. The company promotes the program through its website and its Facebook page.
"We always get thumbs up and good words from everyone," Andrea Shonnard said. "We have not seen a lot of nominations come from (online or social networking). Definitely more comment based."
Shonnard also said that the staff enjoys participating in the Gorilla Landscape program because the winners are typically extremely grateful, and often greet the crew with drinks and snacks. The feedback about the program has also impacted customers.
"We have past customers and new customers come in through the store some to just say 'Wow you guys are really great,' or just 'Thank you for being you.' Others will be coming to shop and let us know that what we have done really touched them," Andrea said. "We have been asked if people could come volunteer to help and we never turn a volunteer down. What we will do for volunteers is give them gorilla landscape shirt."
V.S. Restoration & Cleaning, a carpet cleaning company, and Fitzpatrick Painting have also launched programs to give away services to those in need. V.S. Restoration has a "Deserving Family Carpet Cleaning," where they give away a carpet cleaning every quarter, and Fitzpatrick is currently promoting its Paint it Forward project where they will give away $5,000 in painting services to "someone you know in Linn or Benton County who is in need of painting, but truly cannot afford it by either monetary, physical, or even emotional reasons." Nominations are accepted online through April 30.
V.S. Restoration has just closed entries for its first winner, who will be announced soon. Owners Nick and Michelle Volkert came up with the idea when thinking about how to make their marketing different from other carpet cleaning companies as well as make a difference in the community.
"In these trying times for businesses and individuals we feel there are many people out there who still do wonderful things for others but barely can get by themselves," Nick said in an email interview. "That is why we came up with this idea to give back to those families that are deserving. We plan on bringing them flowers and taking a picture with the winner and possibly having them give us a written testimony on the experience."
Volkert said that V.S. solicits nominations through its Facebook page but has not received as many as he would like.
"We have had many people comment saying they thought this is a good thing but they don't send us a nominee," he said. "We also (use Facebook to) have Spot Removal Tips for people and ask for people's interaction on what other spot removal tips they would like. Also we have before and after pictures of some of the cleaning we have done on different types of carpet and upholstery – (and) we try to keep it not all business and have pictures of our family."
Nominations for next quarter's "Deserving Family Carpet Cleaning" are now being accepted.
Companies like Shonnard's, V.S. Restoration and Fitzpatrick Painting are all taking a different approach to marketing by creating giveaways for those who need a little help. While nominations may be slow to come in via social networking tools, as both Andrea Shonnard and Nick Volkert noted, these programs do encourage customer interaction for nominations and help customers feel positive about these businesses.
Is your company – or a company you know – doing marketing in a unique way? Contact us to tell us about it! You might be featured in an upcoming "Local Business" blog post.