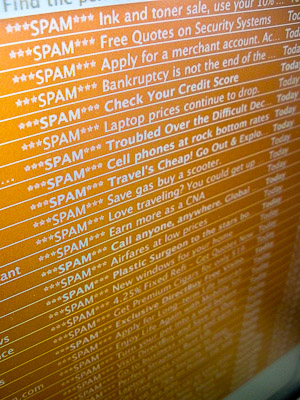 It should come as no surprise that there are a lot of spammers and scammers out there. Small business owners are a big target for website-related scams, because they tend to be busy people and they may not be technical experts.
So when you get an email offering you something related to your website or predicting catastrophe if you don't take care of some issue right away (generally by paying them money), you can almost always disregard them. We tell our clients to forward any emails to us they have questions about, just for their own peace of mind.
Here are a few common emails we see and that our customers ask us about:
Domain renewal notices. Your domain is your website address (ie, mycompany.com), and it's pretty vital to your online marketing. Many business owners also have email accounts with their domain (myname@mycompany.com). You want to make sure it is registered for at least a year in advance and that you only deal with a reliable domain name registrar.
So, keep a good record of your domain registrar as well as your account login information so you don't get duped by other companies. Some unscrupulous places check the publicly available registration information and send notifications to the email address registered with the account, telling you to renew to avoid losing your domain. The problem – if you re-register your domain with the new company, you'll likely pay a lot more per year.
If you want to make sure you're not paying too much for your domain, or that you keep it renewed and don't forget, you can often have your web hosting company handle all of that for you. Visual People is happy to handle that administrative task for our clients – it's one less thing for you to worry about.
Domain available notices. If you own the .com domain for your business name, you may get notifications from time to time telling you that the .net version is available. (Or any of a number of other extensions, like .biz or .cc.) Sometimes you may get a notification like this for a name similar to your domain.
These are sent by companies who have either purchased the domain and are trying to make money by selling it to you at an inflated price, or see that the domain is coming available very soon and have the ability to grab it and sell it to you at an inflated price. Either way, you pay a lot.
Also be wary of companies trying to get you to buy foreign domains (.cn, .hk, .asia are some recent ones we've seen) because, they say, a company with the same name as yours has applied for a business license or some such story.
Here's our advice: If the .net and .org versions of your domain are available when you register your .com, buy them (they'll cost about $15 a year each). If someone else owns them, but there's no confusion between your sites, don't worry about buying them. If you own the .com version of your business web address, there's really not much need to worry about the others. If there is a domain that you wish to buy, recognize that the seller can demand any price for it and often does.
Increase website traffic. One common version informs you that the company has checked and your site doesn't rank in the top 10, or top 100. What they don't tell you is what search term you don't rank in the top 10 for.
Other popular ploys are to promise you'll be on the first page of Google (they're setting up Google AdWords and buying an ad, not delivering organic results – you can do this yourself for much cheaper), tell you they know people at Google or something special about the Google ranking system (it's a closely-guarded secret so these are outright lies) or will put links on your site to other sites (that's basicallly a link exchange, which Google doesn't like or give you better rankings for).
If you're a local jewelry store, odds are that you're not going to rank high for "jewelry" no matter what you do. But, you might rank well for "jewelry Albany Oregon" or "gold jewelry Oregon" or a more specialized and localized search term that is still going to deliver plenty of traffic to your website.
The other problem of hiring a shady search optimization firm is that they may use some tactics that hurt your site or cause it to get banned from Google or other search engines. Or they may use an elaborate (and undesirable) link scheme that may produce good rankings for a brief period, but aren't sustained. This is dangerous territory; you can damage your site's reputation so badly that you have to start over with a new domain in order to be listed in search engines. Don't risk it.
Good search engine optimization firms exist, but they don't send you unsolicited email. If your needs exceed the search engine work we do for our clients, we'll be happy to give you a referral to a reputable company.
Submit your website to search engines. Usually these promise submission to hundreds or thousands of search engines. Once upon a time, there were a lot of search engines and they didn't index your site unless you filled out a form to submit your site.
In 2010, there are only a handful of engines that really matter, like Google, Bing and Yahoo!, and they are all capable of finding your site if you have any links to it from anywhere on the web. A few second-tier engines, like Ask.com, Dogpile and Metacrawler, will also find your site and index it without you submitting it.
Other "search engines" may even be spam sites, so not only do you pay to be listed on them, but they generate spam to your email account.
Rather than spend your money having your site submitted to search engines, spend it to get a few high-quality links, such as from your local Chamber of Commerce (you usually must be a member to get listed in their directory).
Put ads on your site in exchange for money. Reputable companies don't want to advertise on your local small business website. The ads these companies want to place are usually not the kind you would want – such as for offshore gambling or porn sites. The credibility you lose when potential customers come to your website can never be paid for. In fact, any ads at all on your site can be a disaster (see our blog post Ads on Small Business Websites – Just Don't Do It) for more details.
In general, if it seems too good to be true, it probably is. If you don't know the person who has sent the email, and they aren't introducing themselves as a result of a referral from someone you do know or aren't in your local community, you're right to be cautious.